Cone Care Campaign Thank you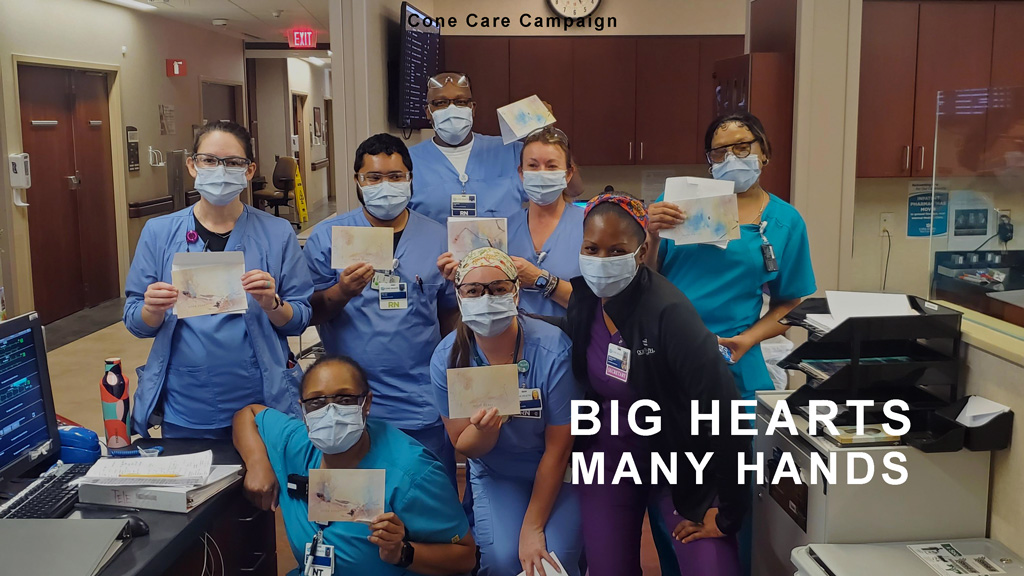 YOU REACH FURTHER AND TOUCH FAR MORE LIVES THAN YOU THINK!

Thank you for being apart of the Cone Care Campaign. Over 500 cards were gifted and hand signed by members of the community. Generous proceeds went directly to Cone Health's Covid-19 Fund. Collectively, YOU, our local business partnerships, and our loving community showed up BIG! I am giddy and humbled all at the same time.
FOR THANK YOU NOTES, PHOTOS, AND A SHORT SIGNING FILM SEE BELOW.
Dear Gracious Gifter,
"We are continually humbled by the generosity of our communities during this unprecedented event (COVID-19). Because of your support, Cone Health is able to support, to treat and to protect our patient's, staff and community during this pandemic."
We acknowledge, with gratitude, the receipt of your recent in-kind donation from proceeds from the Cone Care Campaign for cards.
Sincerely, Tammy | Cone Health | Office of Institutional Advancement

The staff was very grateful for cards and especially for the hand written notes.
-Amy | Cone Health| Office of Institutional Advancement
*ALL HOSPITAL IMAGES BELONG TO & WERE TAKEN BY MEMBERS OF THE CONE HEALTH SYSTEM
.
Many hands were a part of this project. From purchasing, to signing, to receiving, to bringing healing to others. This conceptual film is a way to honor those generous hands and hearts. No one is excited to receive difficulty. I wonder still, how has this difficult season produced goodness and beauty in you? Or, maybe by your hands, in those around you?